Text: Jackie Abramian
"Millions of Russians are banned from the world, while simultaneously facing unprecedented pressures inside Russia," warns journalist Nadezhda Azhgikhina. "If this practice continues, you Westerners won't be able to find anyone to talk with in Russia."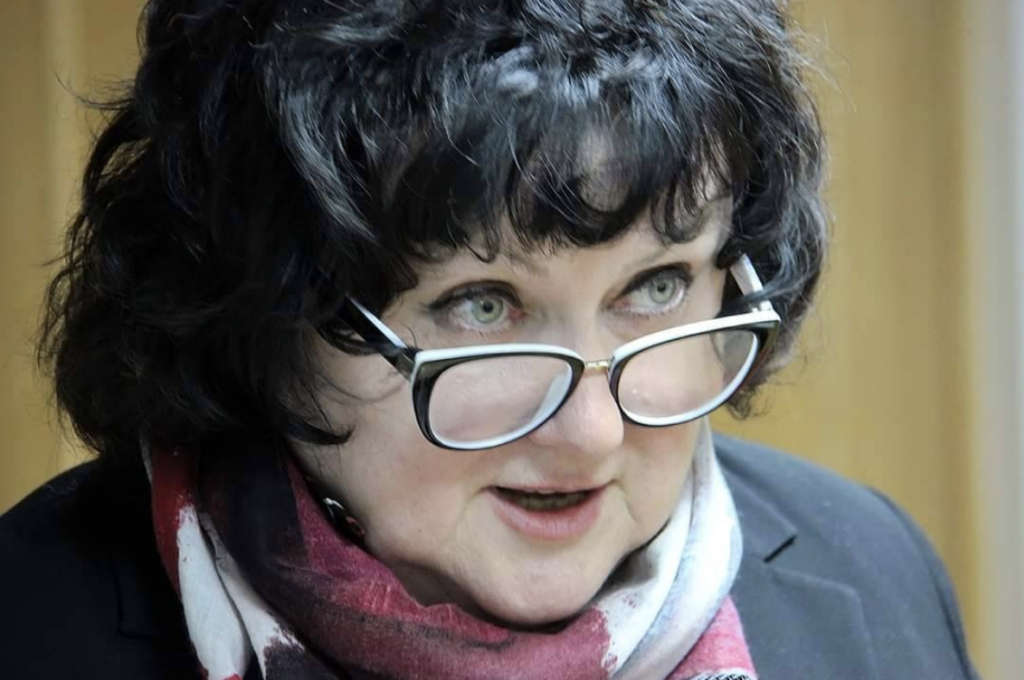 "History is made by ordinary people, not politicians. Dialogue is of great value because something happens when people meet and talk," says veteran Russian journalist Nadezhda Azhgikhina with enthusiasm. We stand in a corner of a hotel lobby one evening in New York City after her full day of meetings, a university talk and dinner with close friends and colleagues.
True to her name, Nadezhda (meaning hope in Russian), Azhgikhina is hopeful about the future of our world. As PEN Moscow's executive director and member of the Union of Russian Writers, she served on the Gender Council of the International Federation of Journalists for nearly 15 years. She articulates her ideas in superb English but with an unmistakable Russian accent and an occasional smile that spreads across her face.
I ask her about the current global void that has silenced cross-cultural understanding of human stories across Russia. These stories bear scars of a history of revolutions and renewals, shifting political ideologies of openness to and then isolation from the West.
Azhgikhina hopes that the global intellectuals and educators could be, "on the frontline of breaking stereotypes and building bridges in different fields" and avoiding "scare tactics of canceling Russian culture and all Russians."
"This is important for the future, our joint future. Canceling Russia has left many Russian intellectuals, students, middle-class and open-minded people feeling discriminated against by the West, so they have begun to change their minds and support the propaganda. The sanctions don't affect the Russian oligarchs, generals or politicians—it's the liberal people. Millions of Russians are banned from the world, while simultaneously facing unprecedented pressures from authorities inside Russia. If this practice continues, you Westerners won't be able to find anyone to talk with in Russia."
Across the expansive Russian country, she says, "There are many decent people. Women are at the forefront, continuing to help each other."
Azhgikhina recalls with nostalgia how the empowering open communications between Russian and American women in the past helped dismantle the long-held "subservient" image of Russian women as portrayed in the Russian media. This portrayal, she says, was pushed by neo-liberal ideas after years of Soviet propaganda about formal (nonexistent) equality that penetrated society and the business world.
Under Mikhail Gorbachev and his "scholarly first lady" Raisa Gorbachev, collaborations spurred international women's peace initiatives, launched the Moscow Center for Gender Studies by sociologist Anastasia Posadskay. This helped independent women's organizations assemble across Russia.
The first women writers from USSR and North America met in spring 1991 at the Glasnost in Two Cultures conference at New York University, and fostered cross-cultural citizen diplomacy, erasing misconceptions on both sides. Following the Russian translation of the iconic book Our Bodies Ourselves, initiated by Katrina Vanden Heuvel, family planning organizations in the U.S. and Russia worked together. The airwaves of Радио Надежда (Radio Hope) unleashed a revolutionary change to condemn gender-based violence (GBV). In reaction, young men joined the movement against the crime.
The slogan, "Democracy Without Women Is Not Democracy," adopted by the Russian women's movement, reached prominence beyond their borders, gelling with the global struggle for gender equality. It saved lives, opened doors, reduced tensions, and united women to fight for nuclear disarmament, equal rights and security.
History is made by ordinary people, not politicians. Dialogue is of great value because something happens when people meet and talk.
Declining Global Journalism Ethics and Feminist Reporting.
An Article 19 trustee since 2020 and past vice president of the European Federation of Journalists, Azhgikhina is alarmed about the depleting landscape of global journalism and the lack of well-investigated and analyzed content. She says the "traditional, family-held media companies" have been replaced with international businesses hyper-focused on financial gains and profits, not delivery of solid news content.
"The globalization of markets has simplified content and decreased the quality of information, since most media outlets today use the same information to report on issues. The most expensive departments, such as investigative, science and technology, are overshadowed financially, and foreign correspondents have dramatically decreased around the globe," says Azhgikhina, citing Nation Magazine writer John Nichols' book, The Death and Life of American Journalism.
"We are far from real journalism today. Since they released the most qualified journalists from editorial offices, today we are witnessing a global trend with uniformed news and rapid information bites. They optimize everything, not to inform and educate, but as clickbait. Objective reportage and voices from all sides are replaced with 'news packages,' a very dangerous trend. The global journalism community must rise and demand awareness," says Azhgikhina.
Today we are witnessing a global trend with uniformed news and rapid information bites.
Azhgikhina is hopeful about various international initiatives—among them the UNESCO Women Journalists as Peace Communicators conference.
A native of Tomsk, one of the oldest cities in Siberia, Azhgikhina moved to Moscow at an early age. With a Ph.D. in journalism from Moscow State University, where she taught for many years, Azhgikhina developed a notable journalistic career. Her resume includes top positions at some of Russia's leading media outlets, such as Ogoniok, Nezavisimaya Gazeta (one of post-Soviet Russia's most important daily newspapers) and a personal column in Delovoy Vtornik and JOURNALIST. In 1992, she co-founded the Association of Russian Women Journalists with Irina Jurna.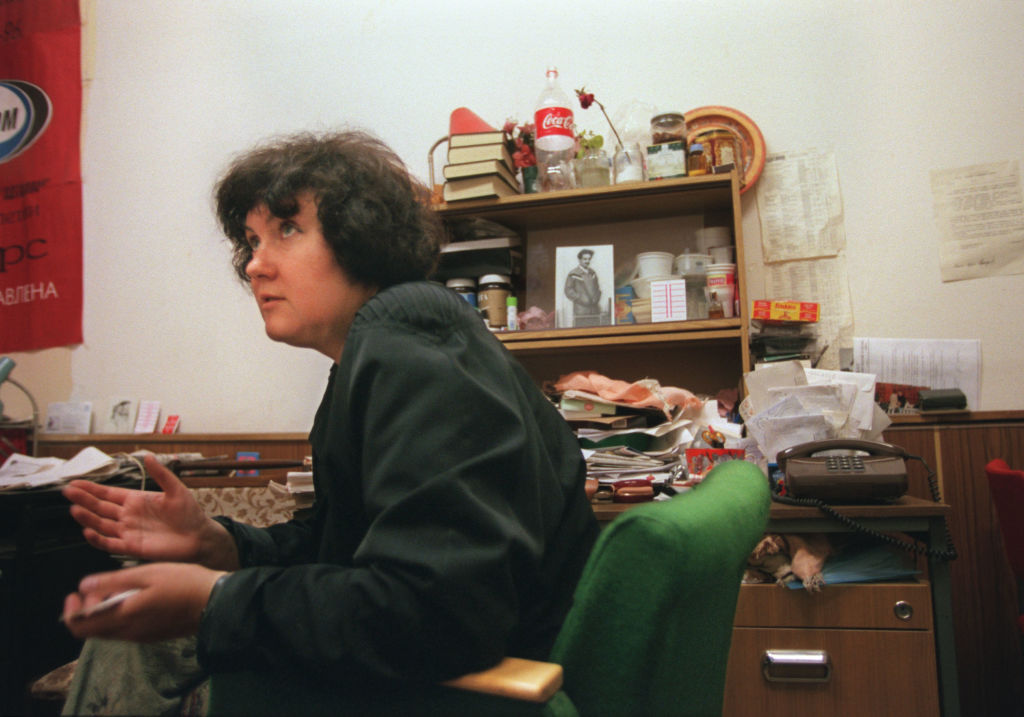 She attributes her intellect and international success to her family. Like many Russian families, hers reflect diverse origins, which range from devoted Communists and Gulag victims to educators, famous Russian writers and scholars of Russian literature. She proudly recalls her maternal grandmother's influence who, as a devout Communist and a "practical feminist," was the first woman chief geologist in the mines.
"During that era, women never worked as geologists or chief geologists. She got this position after graduating from Tomsk Technical Institute and had a seat at the table where there were only men. She encouraged them to use foul Russian vocabulary, as though there were only men at the table, which I cannot imagine even now, but she managed." Azhgikhina admits gender discrimination persists in Russia as across the rest of the world.
U.N. Women's most recent report confirmed that full gender equality around the globe is 300 years away. But in Russia, women's political status is far better off today than in the late Soviet era. Women hold 27 percent of the Russian parliamentary seats, compared to nearly 20 percent by the end of the Soviet Union.
Yet Azhgikhina explains how only mothers with high salaries can easily afford babysitters and kindergarten, while those less financially secure often sacrifice their professional lives, unable to afford either kindergarten or babysitter fees. Beyond Russia's official national strategy on women, she sees a need for "promoting women into decision-making positions on the national level." Across some Russian regions, with a majority Muslim population, she says women are actively involved in all levels of power and business enterprises, making major contributions to the general development of the society.
"Mainstream media in Russia has recently started covering gender-based violence but from a traditional, patriarchal values angle or with a religious lens. This trend accompanied general progression in patriarchal, homophobic, and nationalistic rhetoric," Azhgikhina says.
Most Russians, according to recent polls, believe gender-based violence (GBV) is a punishable crime. This is a contrast from some 30 years ago when Azhgikhina worked with NGOs and Russian journalists who covered GBV, including honor killings and female genital mutilations, which are still practiced in some northern Caucasus regions today.
When these topics are presented in the media, there's resistance from the traditionalists. To combat this, Azhgikhina explains how Russian feminists and activists promoted a shame award titled "Sexist of the Year." It was launched ten years before COVID-19 on March 8 (International Women's Day) as an online commissioned initiative by young feminists and feminist journalists, who highlighted sexist acts and statements in the public sphere, the news media and in advertisements, which captured media attention and coverage.
Peace From a Feminist Perspective
I ask Azhgikhina if the current environment has "peace is on the floor that is waiting to be picked up," as Philip Zelikow quotes in his book The Road Less Traveled. Or have global conflicts and forever wars turned peace-builders into endangered species?
"Because we have so many conflicts worldwide and lack enough information about events in different parts of the world, our global view is very puzzling. I remember discussions on many conflicts and activities where such a humanistic approach was not often discussed, including ways to start peace communication after the conflict or how to prevent new tragedies. Unfortunately, initiatives focused on human dimensions. Ways to end violence are not very popular now and don't dominate the mainstream media agenda. The mainstream media has forgotten many basic principles of journalism. Instead, they participate in information wars to provoke escalation, instead of finding ways to instill peace."
Azhgikhina says the current global environment challenges constructive moral efforts, simply because they're "not very profitable."
She regrets that those in Europe who still remember WWII and the subsequent world peace are slowly passing away. Another generation of young people especially consider wars and nuclear threats as "computer games."
"When I chaired a discussion of young scholars on media and nuclear threat as part of a Russian-American dialogue in St. Petersburg before the pandemic, nobody identified nuclear threat as anything serious. This terrifies me. I don't know how this attitude developed, but I think it's because we don't discuss it or emphasize peace enough as the natural basis for everything in our world. Yes, it's important to report not only about elections, natural disasters and entertainment, but to remind our world about the basic values of what we should do, what is shameful to do, what is good and what is bad." Azhgikhina emphasizes how "our post-truth world" has left some people disoriented.
She joins her colleagues and journalist friends from international organizations as Ethical Journalism Network (EJN), in searching for and finding "new ways to support journalism as a public good." These ideas include establishing independent foundations for investigative journalism, education in new technologies, working with big data and involving the audience in forming media agendas and activities. She and her colleagues believe that journalism will survive and maintain its mission, regardless of current issues.
The mainstream media has forgotten many basic principles of journalism. Instead, they participate in information wars to provoke escalation, instead of finding ways to instill peace.
Citing the 2019 International Federation of Journalists which adopted the Global Charter of Ethics for Journalists, subscribed to by nearly all professional organizations around the globe, Azhgikhina urges journalists to not prioritize coverage of parliamentary and political issues and adhere to Article 19 of the Universal Declaration of Human Rights.
"It underpins journalists' responsibility to their public, which takes precedence over all else, including public authorities. When the media was much more trusted, the public understood that the information they provided empowered better participation," Azhgikhina says.
I ask Azhgikhina if, in her opinion, women in Russia and Ukraine will take the "road of diplomacy," which Henry Kissinger described as "complicated and frustrating" but one which "progress to it requires both the vision and the courage."
"It is very difficult to generalize. There are different types of women and men, but I believe women as participants in global citizen diplomacy, peace-building, and peace communication are untapped. Women have gained experience in all spheres and can galvanize the promotion and development of peacebuilding because of their basic capabilities. This is not because women are better than men, but because women know how to manage incredible, impossible situations. It's not by coincidence that women regroup when facing crises or disasters."
"I believe that motivated women would probably find more flexible language to communicate with. I believe it's possible for women in Russia and in Ukraine to find a common language and help each other. Maybe they are already on this path. It's women's potential which expedites and eases a common language of peace so that we can all overcome the consequences of the tragedy we collectively face today," Azhgikhina smiles.
And what's her message to the women of the world?
"Let's dream about all our futures, the future of our children living in the same space and the same universe. We are all living on a small, blue marble stone, floating in space. We should never give up. We must believe in the impossible being possible. Our mission is not impossible. We must first have a dream, then our dream can come true."
Source: MsMagazine